| | |
| --- | --- |
|  2022 Beach Club RATES  |   |
AREA

SEASON*

BEACH PAGODA

BEACH UMBRELLA

SUN BED

BEACH CHAIR

PAGODA area

low season*
high season*
€15,00

€20,00
/

/
€10,00

€15,00
€8,00

€9,00

"A" AREA


(1st line: 1-20; 2nd line: 71-90; 3rd line: 141-160)
low season*
high season*
/

/
€11,00

€13,00
€10,00

€15,00
€8,00

€9,00

"B" AREA


(1st line: 21-50; 2nd line: 91-120; 3rd line: 161-190)
low season*
high season*
/

/
€10,00

€12,00

€9,00

€13,00
€7,00

€8,00

"C" AREA


(1st line: 51-70; 2nd line: 121-140; 3rd line: 191-210)
low season*
high season*
/

/
€8,00

€10,00
€8,00

€11,00
€6,00

€7,00
*low season: June, July and September  / *high season: August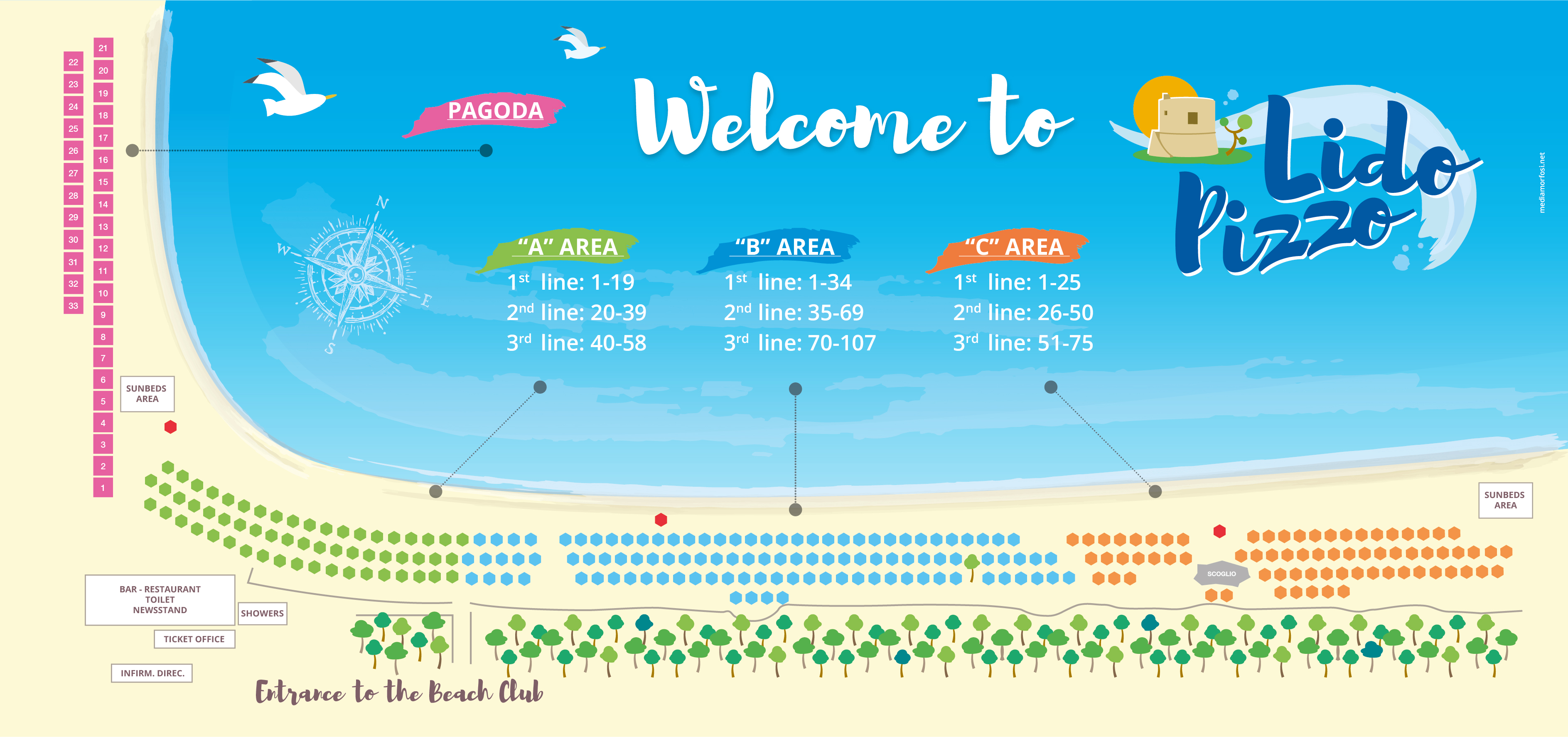 Are you dreaming of Summer?
We are ready to book and make your stay in our Beach club as comfortable as possible!
Your Paradise in Salento is waiting for you! 
We split our beach in three areas: "Pagoda" one "A", "B" and "C" ones.
In the Pagoda area you will find comfortable gazebos instead of classic beach umbrellas. Here you can rent sun beds or beach chairs.
The main difference between the other three areas (A-B-C) is the distance from the "heart" of the beach establishment: Bar, Self-service Restaurant, Terrace, Direction offices and Infirmary, Playground, newsstand and the Entrance from luxuriant and scented pine forest. The closest area is the A one.
Contact us for further information!
Winter Office number: 0833 911550
Mail: amministrazione@torrepizzo.com
More and more Comfort and relax, for a dreamy summer!
---
2022 Beach Club DISCOUNTS
| | |
| --- | --- |
| subscription period | % discount |
| min 7 days | 5% |
| min 14 days | 10% |
| min 21 days | 15% |
| min 31 days | 20% |
| Full season (June 15th until September 15th) | 25% |
These discount percentages are applied to all four Areas (Pagoda, A-B-C).
*low season: June, July and September  /  *high season: August
---
2022 PARKING LOT RATES
ZONA

SEASON*

CAR

MOTORCYCLE

BIKE

"SQUARE" (A area)
low season*
high season*
€ 5,00
€ 6,00
€ 2,00
€ 2,50
€ 1,00
€ 2,00
"Square" (A Area): the closest one to the main Entrance to the beach club (pine forest).
"Boulevard" (B Area): the closest area to the entrance of the parking lot (first Reception desk of the parking lot).
*low season: June, July and September  /  *high season: August